---
Touch In with Your Values
to Determine Your Bottom Line
---
Author: Lynne Namka, Ed. D.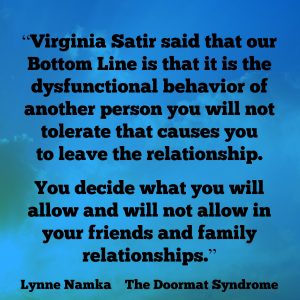 Virginia Satir, one of the pioneers in Family System Therapy, said that our Bottom Line is that it is the dysfunctional behavior of another person you will not tolerate that will cause you to leave the relationship. You decide what you will allow and will not allow in your friends, office and family relationships. It is usually a bad character flaw that allows the person to harbor beliefs that allow him to hurt others. You have your own conscience and sense of self-respect to live with. Physical abuse and continual verbal abuse are common Bottom Lines for most people. It's important to let people know what you stand for. It's equally important to let people know what you won't stand for.
I remember an older woman sitting next to me on a bus in Ecuador telling me her story and crying as she said, "He hit the kids a lot, but when he started in on me, I left him. I'm so ashamed for allowing him to be violent with the children. I should have set my standards higher and stuck to it." I helped her forgive herself on that crowded, noisy bus so that she could regain her self-respect and be there for her children who needed her.
Some people have a high Bottom Line-"I can't stay because you don't hold me when I'm upset." Others have an almost nonexistent Bottom Line-"So he hits me and sends me to the hospital every other week. That's not a reason to leave a man." Psychologist Carl Ridley explained the Bottom Line concept well when he said that the crucial turning point in a marriage is when one partner decides that the other partner has a fatal flaw they can no longer live with. We all have flaws; not having a healthy Bottom Line may be yours if you are in a relationship where you allow offensive behavior.
State your Bottom Line loud and clear to your partner and stick to it. Bottom Lines that define health and safety are one place where you are allowed to be stubborn. Know what you stand for and how you expect to be treated with respect. Define your limits with unhealthy behavior such as, "I can't allow you to yell at me. Yelling insults hurts me and it hurts you. I'm not willing to watch you scream. I've got to go take a Time Out to chill out." Be straightforward about this. Look the person in the eye and show a quiet, gentle strength as you set limits that are respectful. If you are fearful about this, try role playing with a friend saying the words with emphasis (and breathing through or tapping on any fears that come up as you role play being assertive.)
Examples of Bottom Lines
Here are some Bottom Lines that people have said to show their partner that there are limits to their unhealthy behavior:
"I won't let the children go with you if you provoke fights with drivers in other cars that endanger our children's lives."
I won't take your lying and cheating on me. Don't step over that line."

We will not stoop to saying hateful things to each other.  Don't go there.

I won't be with you if you call me names and verbally abuse me. I don't deserve to be called ugly names just because you have an anger problem."

I won't allow your screaming at the kids. Screaming insults at them is destructive. Walk away when you feel your temper rising and you start to yell."

Your excessive drinking damages our marriage and children. I won't live this way anymore. "
Not Sure if you have Healthy Boundaries?
Do a reality check with trusted people to get ideas on what is normal in relationships. Talk with healthy friends and get ideas about how they expect to be treated by their partners. Do something different than you have done before when you are bombarded by someone else's anger. Don't just hope that the situation will change by itself. Why should it? Angry people get to stay in charge and threaten others by their explosiveness. Ask yourself if you are willing to live with a person and his baggage if he will never change. You can't change the other person; you can only change the way you react to him. Or leave. Just don't stay hooked on hope that does not have realistic data behind it. The hooked-on-hope belief that the other person will change when there isn't evidence to show it is denial and a massive Psychological Reversal.
Asking for what you want and standing up for what you believe are some of the necessary skills for keeping your integrity. Satir told me, "Honey, you can always ask for what you want!" Not in my family, I couldn't. I had to learn to speak up about my needs and also know that I wouldn't always get what I wanted. Fair is fair! Getting past feeling uncomfortable about asking when you've been a submissive person all your life is part of growing up.

Slipping Deeper and Deeper into a Dark Pit:  Don't Let Your Bottom Line to Keep Getting Lower
If you allow the Bottom Line behavior to happen without your doing anything about it, your line slips lower and lower. Your partner will lose respect for you and continue to act out. And your self-respect will slip also. If you can't set restrictions on inappropriate behavior of others (and many people cannot), get into counseling yourself to learn how to be more assertive.
Virginia Satir told us to go out into the world and spread her ideas on functional behavior and living in loving relationships. Being assertive and stating what you want (that is fair for both of you) can help create caring, balanced relationships.  I wrote my book, The Doormat Syndrome, to explain her ideas about codependency and functional living. https://lynnenamka.com/book/the-doormat-syndrome/
Exercise: Finding My Bottom Lines
Boundary violations are rampant in people who live in relationships characterized by dominance and submission. You can change your role by examining the cognitive errors that keep you stuck and turn them around. Learning about healthy boundaries is one of the most important things you can do to create peace and happiness in your life. List the beliefs that keep you caught in an unhealthy situation at work or at home.

Where did you learn that you are unworthy of being treated with respect?
How did you learn to deny and subordinate your own needs to meet the needs of others?
How were boundaries and limits set in your childhood home? Who set the boundaries?
What rules about setting boundaries did you incorporate?
What boundaries do you need to set with someone who runs rough shod over you?
If you can't set healthy boundaries, what action are you willing to take to learn about becoming a healthier person?
Are you willing give yourself permission to state a boundary important to you and live with the consequences?
What values do you have about the right to be respectful to others and treating them with kindness?
Describe any irrational belief of "I can't hurt _____'s feelings because _____."
Do you live or work with others who have open system values where people are treated with respect? Are you freer and happier in these systems?
What are the bottom line behaviors that would cause you to leave an unhealthy situation?
Have you allowed your values to slip in order to "save the relationship?"
What uncomfortable feelings come up when you avoid taking a necessary stand?
Tap out old, unhealthy beliefs that keep you submissive. Go back through your answers and tap briskly across your body in a random pattern breathing deeply while you contemplate the errors in thinking that have kept you unhappy. Tap away while you forgive yourself for learning to give in to keep others happy. Take big breaths and blow out any sadness that comes up.
If you address unhealthy beliefs that lie deep in your subconscious mind and live with your deepest values, you will never be as limited as you have in the past. Setting and maintaining healthy boundaries are a necessary part of the growth process.
Teach people how to treat you well and then treat them well in return. Good relationships have good boundaries!

Learn and practice Bottom Line assertive statements. This article is from my book, Your Quick Anger Makeover available from Amazon and other electronic publishers world wide. https://lynnenamka.com/book/quick-anger-makeover-plus-twenty-twenty-cutting-edge-techniques-release-anger/