Heal Abandonment Issues
Healing the Psychic Wounds of Feeling Separate and Abandoned
Lynne Namka, Ed. D.
Loss is universal. We humans do experience loss and out of these great feelings of loss and grief we develop ideas about ourselves. The human experience is to want and crave love and connection. Our greatest fears are rejection and being abandoned. For some of us, our basic needs for safety, nurturing, love and being heard and validated were not met when we were infants and children. The fear of being discarded and abandoned happens to us all.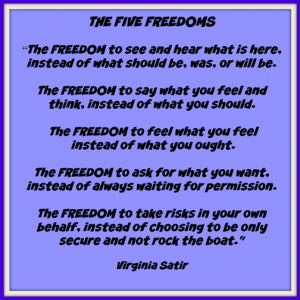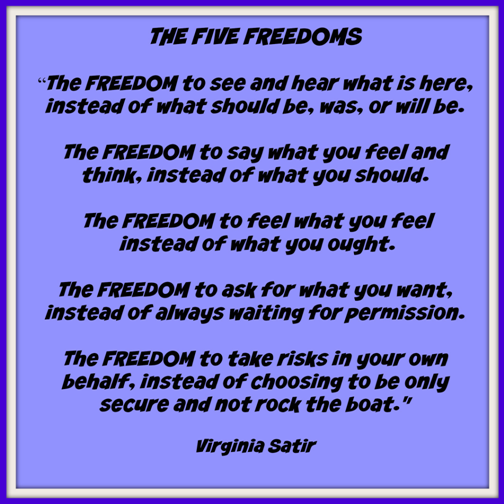 We humans are given "lesson loves" through our interactions with others. We have these lesson loves when people we love disappoint us and leave, causing great anguish and pain and a sense of betrayal. Feeling insecure, rejected and left out gives us major lessons to work through. Loss and anguish help us distinguish those lessons that we are here to work through. When the rift is deep early in life, we can develop issues of lack of trust and fear of intimacy. These make up the psychological lessons of life that we are to learn about and work through. Some call this our karma to address and move through.
Being rejected at an early age really makes a big imprint on a child's little psyche. Much of the insecurity that we have as adults goes back to experiences and events in our earliest years and the ideas we picked up about ourselves. Some triggers that cause an angry reaction have their origin in old abandonment wounds. Being unwanted and not feeling safe are common fears that are held in our deepest psyche. You can use many approaches and techniques to challenge and release these deep fears that you are not enough as you are and not worthy of being loved. Identifying these issues gives us the opportunity to process them, and thereby causes us to stretch and grow. Fortunately, at this time on our planet, there are many healing techniques and approaches to help us.
Who Is Most Likely to Experience Abandonment Issues?
Abandonment has to do with the sense of being separate and alone as an infant or child. Attachment disorders happen when there are severe disruptions in the parent-child bond. There are deep psychic wound in many of us due to relational trauma we experienced from our parents belittling, dismissing or neglecting us. Fears of being abandoned happened when we had parents who cared for us but just couldn't be there for us in the way that our little minds wanted them to.
Children of parents who were alcoholics or drug users or were ill or too busy working and could not meet the child's needs for attachment and safety can experience these issues.

Children of selfish parents who were too focused on their own needs may feel a sense of loss. Scapegoated children almost always feel the loss of a parent's love.

Children who were separated from their parents and left with other caretakers can feel pushed out and rejected even though there were good reasons for the placement.

Adopted children often feel abandonment. People who felt different from their families or had a biological parent that they did not know or were raised by a step parent and felt different may have identity issues.

Sensitive and spiritual children from dysfunctional families feel out of place and different from other family members.

Divorce and a parent's leaving can create confusion, ideas about being rejected and abandoned, feeling different and not fitting in.
Abandonment issues manifest in different forms of intimacy issues. Often as a result of the feelings of deep hurt and not being validated, there can be either distancing and avoiding people or an excessive neediness and demanding to be heard, recognized and understood. There can be great anger inside without realizing the reason why. The coping methods of those who have a fear of loss and never feeling safe within a relationship can take different forms:
Clingers – Those who are emotionally needy often make others feel annoyed and emotionally infringed upon.

Loners – Those who are afraid to make loving connections with others out of fear of being hurt once again.

Wallers – Those who put up walls or a barrier around their innermost self to keep people out who they think might harm them.

Avoiders – Those who keep themselves away from intimate relationships due to the fear of being deeply hurt.

Controllers – Those who are seriously jealous and must monitor and questions their partner constantly.
Abandonment issues left untreated often are played out on significant others. Placing demands on a partner, child or a friend to give you the attention and love that you did not get from your parents always backfires. People in your life today are not there to make up for the insecurities felt as a child. However, relationships bring up the old wounds so that they can be worked though and healed.
We are not to blame our parents as they experienced similar wounding that has come down through the generations. We are to understand our family patterns, not blame our parents. As Virginia Satir said, "We are victims of victims of victims." Yet, we do not have to remain victims. We stay in victim mode only when we continue to carry and act out the old wounding. You may have to mourn the loss of your childhood and the pain of the people in your family. There is a time to move through mourning and get on with life.
As Ecclesiastes 3:4 reminds us:
"There is a time for everything,
and a season for every activity under the heavens:
a time to be born and a time to die,
a time to plant and a time to uproot,
a time to kill and a time to heal,
a time to tear down and a time to build,
a time to weep and a time to laugh,
a time to mourn and a time to dance…"
The abandonment articles in this category of this web site will help you understand and then work with feelings and ways of coping that developed out of feeling neglected and abandoned as a child. You deserve to be whole and connected to yourself, others and that which you call Creator. The psychological work must be done to release old insecurities and false ideas. It's not enough to know about this issue. The deep feelings and errors of thinking about being unworthy must be processed.