Giving Happiness Away!
Giving the Wonderful World of Psychology Away!
Be the Positive Prescription Writer of Your Future!
---
---
Welcome to your journey of transformation. Want more happiness and love in your life? To have a satisfying, successful life, learn and use ideas from psychology.
Find new ideas and theories to change negative beliefs that keep you stuck.
Gain great tools and techniques for becoming more resilient and empowered.
Get the best information about good mental health and healthy relationships.
We are living in the fast lane of world change. It's hard to stay balanced in the middle of ongoing conflict in our world. Leland Kaiser, a designer of the future, has this to say about the theory of parallel futures: "Reality is a great universal pharmacy and you are the prescription writer. Whatever you write, the pharmacy fills. If you write the wrong prescription, you will receive the wrong medicine, and it will not be the fault of the pharmacy!"
Do You Want a Happy Life Full of Love?
Positive Psychology to the rescue! You'll live with yourself for the rest of your life so why not become the best possible person you can? The technology for happiness is there as described by Positive Psychology. The knowledge and tools for creating happy, loving relationships are there! The techniques for letting go of unwanted intrusive feelings are there. Why not learn the skills to create inner harmony and loving relationships? Our website gives you the information and tools from psychology to change unhealthy behaviors and choose a different future.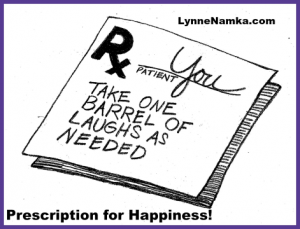 You define your own personal reality by your daily beliefs, thoughts, words and actions. Reality at any given moment is what you believe, how you perceive events and how you interact with those around you. Remaining stuck in victim thinking, addictive habits or defensive behavior gives you the booby prize in life. If you're not happy with what you are being offered in life right now, why not change your thoughts, perceptions and beliefs and gain a happier life? Why not write the most delicious probable future prescription? What better thing can you do with your lifetime?
When Living Hurts, Educate Yourself about how Psychology Can Help You!
Life can be tough. You need practical information about increasing a positive mood. You need solid tools to help with strong feelings. Stuffing the emotions and ignoring problems does not help, folks. Hoping things will go away doesn't even come close. In fact, not dealing with your problems makes things worse. There are answers and solutions to the issues that you face. And we don't have to be so serious about things. We can add humor and have some fun along the way.
Wouldn't you like to ….
Know why you and others do the weird and crazy things you do?
Learn tools and techniques to deal with stress and emotional pain?
Learn strategies to decrease confusion and help solve your problems?
Learn positive communication skills to get along with others?
Learn solutions to the conflicts that threaten your relationships?
Interrupt and challenge intrusive thoughts and sure-fire techniques to banish unhappy feelings?
Understand narcissism cruel behaviors and set boundaries with over-bearing people?
Deal with gut-wrenching, painful emotions that accompany being rejected or abandoned?
Learn Emotional Intelligence to have a Happy, Fulfilling Life
I've been there and I know. I've spent a lifetime helping people learn the best ways to calm their minds and keep their cool. You have problems, psychology has answers! Positive Psychology is the way to go.
What creates good self-esteem in children and adults? Learning social skills, good communication skills and Emotional Intelligence is a practical, common-sense approach to gain good self-esteem and loving connections. How you treat others and yourself makes a difference in the love and connection you will gain in return. People in tune with their emotional intelligence interpret and use their feelings to think and act appropriately to meet the needs of the social situation. Emotional Intelligence is more important than IQ in becoming successful in your relationships, career and life.
You can learn these all important life skills which are necessary for happiness in life. Emotional Intelligence skills are easy to learn once you have the basic understanding of the nuts and bolts of dealing with feelings.
Social Awareness—Recognizing verbal and nonverbal cues of the negative emotions of others. Having empathy, understanding and being tolerant of others and their feelings.
Self-discipline—Being conscientious and demonstrating hard work, controlling emotions, and refraining from impulsive actions and inappropriate anger.
Self-Soothing—Learning anxiety reduction and stress-management techniques to handle emotional distress. Stopping errors in thinking through self-talk. Dealing with feelings of inner distress through regulating anxiety.
Resilience, Persistence and Motivation—Being willing to act on meaningful priorities and giving good effort. Continuing to persevere on hard work with determination when confronted with challenges and failure. Taking responsibility, cleaning up your mistakes and using self-regulatory skills to persevere when work becomes hard. Viewing yourself as a competent individual.
Trustworthiness and Honesty—Having integrity, telling the truth and admitting wrong doing. Being truthful about one's own shortcomings and owning mistakes. Dealing with vulnerable and frustrating feelings.
Having Empathy—Understanding and being tolerant of others. Having the skills that create good friendships. Refraining from actions that hurt others.
Faith and Finding Meaning—Other research shows that having faith in something greater than yourself and developing supportive communities create a happier mind and good mental health.
One More Thing…Understanding Personality Disorders—Although understanding the behaviors of people who have Personality Disorders is not considered part of Emotional Intelligence, this knowledge is a necessary part of understanding why we have conflict in our human relationships. Your life is affected by world leaders, politicians and greedy people who prey on unsuspecting folks as well as selfish relatives who use them. Learning about anger, violence and narcissism and the darker side of human nature help prepare us for the real world as it is. Your children need this information on avoiding toxic friends and setting boundaries with those who take advantage of them. And good-minded, codependent people need to understand that too much kindness and empathy towards self-involved, destructive people can harm them.
---
Learn About – Lynne Namka, Ed. D.
Better Living through Psychology!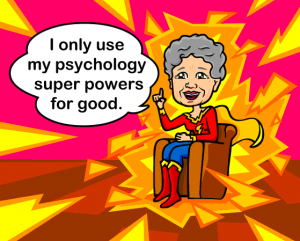 So who am I to be giving you information and opinions about good mental health? I am a Happy Psychologist in Tucson, Arizona who has been writing articles and books since 1987.
Keeping it real! I'm a down-to-earth, practical woman who writes about what I know and practice what I preach to create loving relationships with my husband, friends and family. I was a disturbed child who suffered abuse and bullying from one side of my family. I've used ideas from psychology to deal with my own challenges from early childhood trauma, family dysfunction related to anger, narcissism and codependency, years of depression and thirty years of health issues. I'm a wife, mother of three adult children, and four grandchildren and a new great grandson. We are a loving, connected family who enjoy each other.
I'm trained in all areas of the field of psychology with an emphasis on cognitive behavioral therapy. My major training was with family-systems pioneer Virginia Satir. Virginia charged us to take her ideas about healthy, straight communication skills out to the world. Since then, I've been an advocate for healthy living through learning positive ways to work with challenging feelings. I write about what I've lived through and the tremendous human experience of dealing with those troublesome emotions and defense mechanisms which keep us separate from others.
Don't Ride the Roller Coaster of Fear, Shame and Denial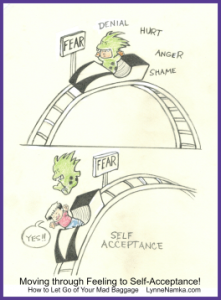 My writings normalize anger and other negative human feelings and explain the underlying dynamics of why we do what we do. I draw from the psychological research, my clinical experience and my own life experience. And it's not enough just to know information. I place a heavy focus on releasing unwanted feelings and treatment of trauma and healing. I believe we are here to heal our wounds and now it's exciting that the new techniques from Energy Psychology can help us.
The things we do as a human species are funny! In the 1980's, I started using a light-hearted, humorous approach in my writings instead of portraying the so-called negative emotions in a bleak, devastating way. I've put a tremendous amount of free content in my You Tube videos, Facebook posts and my former award-winning website, Angriesout.com. I'm a social entrepreneur and have reinvested all profits from my company, Talk, Trust & Feel Therapeutics, into developing new products and giving mental health ideas away.
I draw from thirty years working as a psychologist in the schools and in private practice with adults and children with emotional and behavioral problems. I was one of the first to emphasize teaching social skills—teach children how to behave instead of punishing them. I've developed curriculum's and books that explained feelings and emphasized skill training in anger management, resilience and emotional intelligence. Children's misbehavior can be corrected with love, firmness and compassion. They can be taught the social skills they need to become loving, authentic human beings. My ideas have helped thousands of parents, teachers and therapists worldwide teach children to express uncomfortable feelings, take responsibility for their own behavior and learn positive social skills. Peace in our world can become possible when each person becomes responsible for their unhealthy and unloving ways of acting.
I'm a prolific writer and more ideas for you are available from my other articles which are not posted on this website! My free, weekly email newsletter, Inspiration and Transformation, goes out across the world to 4,000 readers. My parenting blog is at TimeToLoveYourself.com. Receive my daily positive mental health posts via my Facebook Page and watch my You Tube Videos to see more of what I have to offer.
Tools and techniques for creating long-lasting love in your family and love life are described in my articles on John Gottman's research, in my romance fiction book and in two adult fairy tales. My many books and curriculum's can be found directly on this website under the Books Tab or at Amazon and as PDF downloadable books from other e-publishers across the world. You can also purchase Bulk Orders for direct shipment through my company catalog.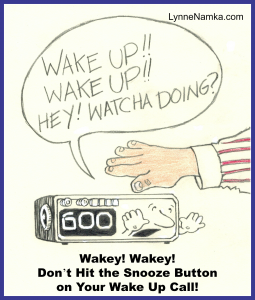 My old website Angriesout.com received thousands of daily visits from adults and children looking for positive, practical ways to deal with their emotions and create better relationships. You will find that same excellent information here as you browse through my new website. My many articles about narcissism, codependency, anger, abandonment, bullying and domestic violence have stimulated interest in understanding how deeply aggression and selfish behavior affects others.
So start right now using this information to work on yourself. Take what you like from this plethora of information about good mental health. Lighten up and go easy on yourself. As I often say to clients, "Be gentle and loving with yourself. You are a marvelous human being with feelings and that is a fantastic thing to be!"
---
---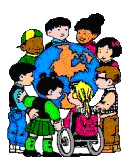 Talk, Trust & Feel Therapeutics
Tucson, Arizona

---
PROFESSIONAL DISCLAIMER:
Lynne Namka, Ed. D. –  Talk, Trust and Feel Therapeutics, Tucson, Arizona 85739
Sorry but I can't give personal advice here other than general information in my writings. I receive many Social Media requests from people who want advice or counseling from me. I never do phone sessions, Skype or email due to my busy writing schedule and chronic physical illness. I can't make a recommendation for you as I don't know the therapists in your area. I suggest you go to your local behavior health agency or google Psychology Today's findatherapist.com and put in your zip code to look for someone in your area who can help you.