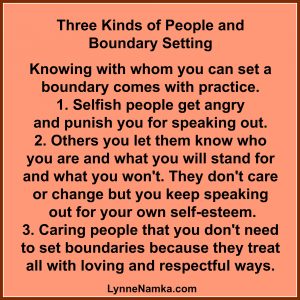 ---
Appropriate Boundaries Are Necessary for Healthy Relationships
---
Author: Lynne Namka, Ed. D.
A boundary is that invisible line that separates your from the rest of the world. Within your boundary is that personal space where you feel safe and secure.  In healthy relationships where neither person needs to control the other, both partners have an understanding of fairness and the others person's needs.  They grant each other the right to have psychological space and look out for small ways to create happiness for the other person.
 Abuse within a relationship can happen when appropriate boundaries are not set and kept. Status aggression is a concept from the animal-pecking order of some species using violence to establish dominance. Status aggression is the misuse of power where the older, larger or meanest person uses anger and rage to make others submit to his wishes because he can get away with it. Children learn abusive behavior from parents or siblings who get their way when they are aggressive. Unfortunately some of the children in the family learn that the angriest dog gets the bone.
Boundaries are needed when one partner tries to control the other. When someone invades your space physically or emotionally with discounting your needs, manipulation, bullying or abuse, your personal boundaries are violated.  Power and force to get one's way and causes the other person to submit are the hallmarks of boundary transgressions.  When you give yourself away taking care of others without looking out for yourself in a relationship, resentment and anger can build up resulting in your feeling like a martyr and victim.
You have certain rights of being emotionally and physically safe within any relationship.  Assertiveness is always about finding the balance between aggression and submission. Boundary violations happen when one partner does not accept responsibility for their own inappropriate actions and blames the other person for their own problems.  Blaming the other person when things goes wrong is a defense mechanism called projection.  It is a reversal of taking responsibility for one's self.
My Wishes for You Regarding Healthy Boundaries
For Those Who Can't Say No (And You Know Who You Are)
May you know your bottom line — what healthy behaviors you will stand for and what unhealthy ones you will not.
May you listen to your internal voice and gut when something radically doesn't feel right for you.
May you get a reality check with someone whose clear-minded thinking you admire if you're not sure about an appropriate boundary.
May you always set and stick to strong boundaries when others push past your personal comfort level.
May you know when you are doing too much for another person and are approaching burnout.
May you speak with authority to say what works for you and what doesn't.
May you repeat your boundary statements in no uncertain terms if others shame you for speaking out.
May you know the difference between agreeing because you want to and giving in.
May you take an assertiveness training course if you don't.
May you use your strong, firm voice to ask for what you want and know you won't always get it.
People who can't hear no and back off because they believe that their needs are paramount are the bane of relationships.  Without limits put on certain behaviors, selfish people sometimes increase their egotistical behavior.
Crossing of boundaries usually comes from errors in thinking on one's person's part and allowing those errors to become the RULES in the relationship. Cognitive errors are those irrational beliefs that people pick up and then live by.   They create conflict in one's life and in the lives of others. Children who come from homes where there is trauma, addictions and game playing have more cognitive errors and thus unhappier relationships when they grow up.
For Those Who Can't Hear No (You May Not be Aware of how You Squash Others' Rights)
May you undergo a study of errors in thinking and irrational beliefs so that you will gain happiness.
May you stop all words of blame and shame.
May you distinguish between what benefits you only and what legitimate needs others may have.
May you examine your expectations of others to determine which are valid and fair for all concerned.
May you listen to and respect the boundaries of others.
May you stop using anger to set inappropriate boundaries of your own.
May you learn about how the balance of power within a relationship benefits both partners.
May you learn the methods of fair fighting, conflict negotiation and compromise.
May you take the responsibility for observing and changing how you project your own undesirable behaviors on others.
May you explore topics of power, force and narcissism.
May you stop putting your time and energy into behaviors that do not bring you peace and love.
May you put strong boundaries on your beliefs about entitlement.
In healthy relationships each person has his/her own thoughts and feelings and can take responsibility for his/her actions.   So ask yourself are you really getting what you want out of life in terms of living in fair and balanced relationships?
You hold the key to happiness when you start taking responsibility for how you treat others and how you allow them to treat you.  You and you alone can take the responsibility for healthy boundaries.  You will be as happy as you are able to know and set appropriate boundaries and listen to those appropriate boundaries expressed by others.
My wish for you is that your boundaries be healthy ones.
This portion of this article is excerpted from my book, Your Quick Anger Make Over: Twenty Cutting Edge Techniques to Release Anger.
End Dating and Relationship Abuse
Dating and relationship violence are important issues that need to be publicized. Jean Kirkpatrick in her newsletter defined abuse well:
"YOU ARE BEING ABUSED:  When you are yelled at, snapped at, told that you are acting wrong, acting smart, acting dumb, trying to start a fight, imagining things, twisting things around, interrupting, trying to have the last word, going on and on, thinking wrong, thinking you're smart, thinking you know it all, picking a fight, asking for it, looking wrong, looking in the wrong way, looking for trouble, trying to start an argument, and so on and on."
So I turned Evan's statements around and came up with  this definition of being an abuser. Likewise, if you habitually yell, snap, tell other they are wrong, dumb, stupid, or if you try to start a fight, imagine things, twist things around, interrupt, try to have the last word, think you are smart and know it all; if you pick fights and look for the wrong in everything to start arguments, guess what?  YOU ARE AN ABUSER!
Patricia Evans gives more information in her book, The Verbally Abusive Relationship. Evans says that abusers are often explained by an insecure childhood that created an unhealthy (sometimes abnormal) need to control others. For more information, do a Google search on assertiveness and boundaries.
---
Following are Two Websites that will Assist You in Dealing with Teen and Dating Violence:
My 19-year old daughter Emily Rachel Silverstein was murdered by her ex-boyfriend on April 9, 2009 at Gettysburg College. It's not anything that she or we could ever have imagined would happen. Fortunately murders are not very common, but dating violence and abuse is. 1 in 3 teens report that they have experienced physical, verbal, emotional or sexual abuse.
YOU can help raise awareness about this serious issue, helping young people learn the warning signs of date abuse, AND even more importantly, know what to do to protect themselves if they are in an abusive relationship.
After Emily was murdered, we purposely tried to steer the media and our own thoughts away from the circumstances of her untimely death by focusing on the life and legacy of this extraordinary human being. Emily was a compassionate person with a passion for helping to make the world a better place. At college she grew into a leader, organizing, inspiring and empowering other young people to become engaged and involved in many different social issues for a more peaceful, just and sustainable world. She touched many lives but there is so much more she had wanted to do. We started The Emily Fund to share her story in the hopes that other young people would continue to be inspired by her vision, compassion and passion for a better world.
Although I want my daughter to be remembered for the wonderful person she was, I also feel driven to try to do what I can to prevent other young people's lives from being cut short in the way our daughter's was. In order to figure out how to help, I set out to try to properly categorize our daughter's murder. From the beginning, the media called Emily's murder 'domestic violence.' This didn't sit right with us, since Emily had not been physically abused during her short-term relationship; they never lived together, and they had broken up weeks before the murder.
As I began researching 'domestic violence' I discovered there were lots of wonderful materials and organizations devoted to helping domestic partners escape from an abusive relationship. It didn't seem to me that these would resonate with the type of relationships college students were engaged in, though. However, I discovered there was a whole niche of organizations and materials focusing on "teen dating violence" too. This sub-niche seemed closer to the category of violence that took our daughter's life. But, nearly all of these addressed dating violence among high school students. There didn't seem to be many resources or organizations addressing dating violence at college — a time young people away from home could be most vulnerable. When I spoke to Emily's friends at different colleges around the country, I heard a similar story — there was usually a brief 'dating violence awareness' program during freshman orientation, but then the subject was never mentioned again.
I started StopDatingViolence.org / DatingPledge.org, a project of the 501c (3) nonprofit organization – We, The World, Inc., to provide information, links and resources to young people at college, in the hope that Emily's story will not only inspire many to become actively engaged in social change as she was, but also to raise awareness about the serious issue that ended my daughter's life.
Please help spread the word to stop dating violence. Get Free Dating Pledge Cards to hand out, and help your school compete in the National Dating Pledge challenge by inviting others at your school to Take The Dating Pledge.
I pledge to:
            Always treat my girlfriend or boyfriend with respect.
            Never hurt my girlfriend or boyfriend, verbally, physically or emotionally.
            Not to be controlling or manipulative.
            Accept responsibility for my actions.
The Pledge is adapted from the National Teen Dating Abuse Hotline – National Hotline at 1-866-331-9474.
---
Dating abuse can happen to anyone, at any age, no matter what race or religion they are, and no matter what their level of education or economical background. Dating abuse also occurs in same sex relationships.
Dating abuse isn't an argument every once in a while, or a bad mood after a bad day. Dating abuse (or Relationship Abuse) is a pattern of controlling behavior that someone uses against a girlfriend or boyfriend.
Abuse can cause injury and even death, but it doesn't have to be physical. It can include verbal and emotional abuse – constant insults, isolation from family and friends, name calling, controlling what someone wears-and it can also include sexual abuse.
Are You Being Abused?
Does something about your relationship scare you?  Does your boyfriend/girlfriend:
    * Look at you or act in ways that scare you?
    * Act jealous or possessive?
    * Put you down or criticize you?
    * Try to control where you go, what you wear or what you do?
    * Text or IM you excessively?
    * Blame you for the hurtful things they say and do?
    * Threaten to kill or hurt you or themselves if you leave them?
    * Try to stop you from seeing or talking to friends and family?
    * Try to force you to have sex before you're ready?
    * Do they hit, slap, push or kick you?
Are You Abusive?
Have friends or family ever told you they thought you were abusive or controlling? Abuse is not part of a normal relationship, even if it doesn't happen every day. Do you ever:
    * Call your girlfriend/boyfriend names?
    * Text or call them excessively and get upset when they don't respond?
    * Monitor their email or profile on a social networking site?
    * Feel you have a right or need to know where they are most of the time?
    * Get jealous or angry when they spend time with friends or family?
    * Ask them to change their clothes or style of dress?
    * Get in their face during a disagreement?
    * Push, slap, or punch them for any reason?
    * Restrain them to keep them from leaving during an argument?
    * Guilt or force them into having sex?
    * Threaten to hurt them or yourself if your relationship ever ends?
If you said yes to even one, you may be creating an abusive relationship. Call us if you need to talk. We're here 24 hours a day, 365 days a year. All calls and chats are anonymous and confidential.
Contact us by phone at 1-866-331-9474 (1-866-331-8453 TTY) or chat online from 4pm – 2am CST.
This information is used with permission from www.LoveIsRespect.com.