---
Parental Behaviors that Can Cause a Child to Feel Abandoned
---
Author: Lynne Namka, Ed. D.
Childhood neglect and traumas are typically at the source of our poor self-esteem, insecurities, self-hatred, compulsions, and fears of intimacy. Rejection, constant criticism, withdrawal of love and physical and sexual abuse are devastating to the young child who is trying to develop his identity. The child who does not feel safe in his family does not learn to regulate his emotions. In his book Affect Regulation and the Repair of the Self, Dr. Allan Schore explains how children become insecurely attached and develop styles of poor attachment that affect later relationships where there is an emptiness and an ongoing longing for connections. Schore says that "All forms of psychiatric disorders are marked by emotional dysregulation. All forms of psychotherapy are forms of affect regulation. The therapist is a psychobiological regulator of the patient's state."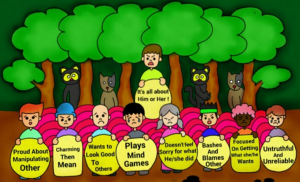 Abandonment issues surface when the overwhelming unprocessed feelings surface. The ego, as described by current spiritual teachers, is that lower, rebellious part of the human personality complex that constantly generates fear thoughts and reactions. The ego is the great distracter! It throws up the defense mechanisms to keep you off balance. Its job is to keep you from finding your true self. Due to feelings of helplessness and fragility when basic needs were not met, the false compensatory self of the ego is set up from early emotional wounds to defend you against vulnerable and shameful feelings. This is the false self that only knows lack and longings that are never satisfied.
"Return to your true self," said St. Augustine. The way back to your Real Self is to undergo a deep inner journey with spiritual reading, introspection and finding compassionate healers to assist you. Fears of abandonment and the programming you underwent to cause insecurity will lessen as you address and release each of the old trauma memories. Peace of mind comes when you become secure within yourself so you don't need rewards and gratification from a source outside yourself. This is called Inner Locus of Control. Gain inner strength through remembering that you are a Holy Child of the Universe instead of depending on someone or something outside yourself (luck, addictions and destructive desires) to give you happiness.
Today's new mind/body therapy approaches can help you release old abandonment fears. IMHO, you must access the body to release old muscle memories of feeling left out and rejected. Talk therapy will not do it!
One energy psychology approach you can do on yourself is my Five Element Meridian Release Technique to help release some of the old terror and helplessness of being rejected, neglected or abused. It features holding a meridian point on the wrist to balance that specific energy meridian, while holding the neurovascular points on the forehead to calm the cardiovascular and circulatory systems, and tapping on the back of your head to place the calming response into the central nervous system. In addition, by saying what you want to release, you state what you do want and bring in positive ideas (I release fear and anxiety and bring in peace and calmness.). Once you get the hang of the technique, you can release strong emotions in a few minutes. The free charts and instructions are at (insert link here).